Ramadhan buffet : Sunway Resort Hotel & Spa
3,688 views
1 Comment
Last year, we had a fabulous Ramadhan feast at Fuzion, Sunway Resort Hotel & Spa. You can read all about it by clicking here.
We were invited again this year to a preview of their Ramadhan spread. Themed "Warisan Rumpun Melayu" it offers a great variety of Moroccan dishes as well as a sumptuous International spread. The selection of Moroccan dishes includes Hummus, Moroccan Harira Soup, and Moroccan Mixed Grill. A dish not to be missed at Fuzion would be, the Lamb Okra Saloona. Priced at RM128++ per person, the Moroccan spread will also feature Arabic-style Whole Roasted Lamb, Chicken Tagine, Saffron Rice as well as desserts consisting of Baklava, Moroccan Sweet and Dates.
Roast Lamb
This is actually the first Ramadhan buffet I've attended that served steamed fish! *Ethan jumps in excitement*
Meanwhile, at the four-star Pyramid Tower Hotel, Atrium Café takes a more traditional approach with its dinner spread themed "Warisan Rumpun Melayu" which features authentic Malay dishes from around Malaysia.
Diners can indulge in the Sup Ekor Lembu with Fries and Roti Bengali, Gulai Kawah Bagan Serai, Nasi Briyani Gam Ayam, Laksa Kedah, Asam Pedas Portugis, Ikan Bakar Pari Cencaru and Kembong with Air Asam and a host of other traditional  dishes for a truly 'Warisan Rumpun Melayu' experience. This dinner buffet spread at Atrium Café is priced at RM98++ per person.
One thing I love about Ramadhan is the local kuih-muih. They are my favourite and I always have them FIRST before digging into the main dishes :D
Ethan on the other hand, prefers ketupat, lemang and the likes!
CIMB cardholders will enjoy the 'A feast for four, a bill for three' promotion when they dine at either Fuzion or Atrium Café 20 July to 18 August 2012. Citibank and RHB credit card holders will receive a 25% discount on dining throughout the promotional period. Card holders are advised to make prior reservations.
Sunway Resort Hotel & Spa
+60 3 7495 1888
//
Join ME for updates & giveaways!
About Me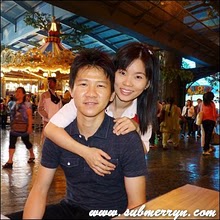 Home is where MY heart is.
I am a mother to two boys; Ethan and Ayden and a wife to Darling William. I'm a stay at home mum who blogs to break the monotony of life and to avoid feeling jaded. Would love to get to know all the Super Mommies and Daddies and Babies or Singles out there with the hope that we can learn more from each other. Most of all, I am a happy person, and I hope YOU are too.
Click here to learn more about me ^_^
Ethan and Ayden's Reading Progress