Daily Fresh : My favourite Corn in a Cup
3,414 views
14 Comments
I'm very choosy when it comes to corn in a cup. I've tried so many out there and nothing beats the one I get from Daily Fresh. But having said that, not ALL corn from Daily Fresh outlet is good. I particularly dislike the one in Sunway Pyramid (nearby Brands Outlet) because of the way they prepare the corn. Instead of mixing the corn and butter in a separate pot, they just scooped some corn into a cup, add butter and milk, topped up the corn, close the lid and shake the cup and give it to me. @_@ I so don't like it being done that way! I thought it was only that particular day but after frequenting that stall for more than a couple of times, I discovered that they do it THAT way and I'm so not going back there!
Anyway, let's talk about the Daily Fresh outlets that I love. I frequent the most is the one at the Curve but the pictures below are taken at the outlet in Tropicana Mall using my iPhone :D

Daily Fresh, serving the BEST corn in a cup!
Ethan will not miss having this each time we go to the Curve!
I love the sweet corn that pops in your mouth! It doesn't have those unsightly husk and I can let Ethan eat it without much trouble. With other brands, Ethan will always be spitting out the husk! >_<
IceKimo is MY favourite!
The staff here shaving Strawberry IceKimo for muah! :D
Strawberry IceKimo! Slurp! I love cold desserts and this is one of them! :D
Ethan and I love their waffles too. We usually take the blueberry/peanut butter or strawberry/peanut butter waffle.
The many choices of fillings for your waffle.
Darling wanted to try their Wafito Premium the other day and opted for chicken floss. One bite of it I'd say 'Not BAD' but after several bites, it became too salty to my liking. I still prefer the original waffle, blueberry and peanut butter! :D
//
//
//
//
//
//
//
//
//
//
//
//
//
//
Join ME for updates & giveaways!
About Me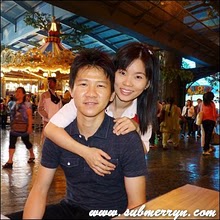 Home is where MY heart is.
I am a mother to two boys; Ethan and Ayden and a wife to Darling William. I'm a stay at home mum who blogs to break the monotony of life and to avoid feeling jaded. Would love to get to know all the Super Mommies and Daddies and Babies or Singles out there with the hope that we can learn more from each other. Most of all, I am a happy person, and I hope YOU are too.
Click here to learn more about me ^_^
Ethan and Ayden's Reading Progress